WE ARE MOVING! SEE BELOW FOR DETAILS.
TEMPORARY OPENING HOURS ARE NOW IN PLACE AT OUR CURRENT STORE UNTIL MAY 4TH WHEN WE CAN WELCOME YOU THROUGH OUR NEW DOORS AT UNIT R, RIVERSIDE INDUSTRIAL ESTATE, FAZELEY, B78 3RW.
WE REALLY APPRECIATE YOUR PATIENCE AND SUPPORT DURING THESE EXCITING BUT CHALLENGING TIMES!
WE LOOK FORWARD TO SEEING YOU ALL SOON IN OUR NEW HOME
THE 2 WHEELS ONLY TEAM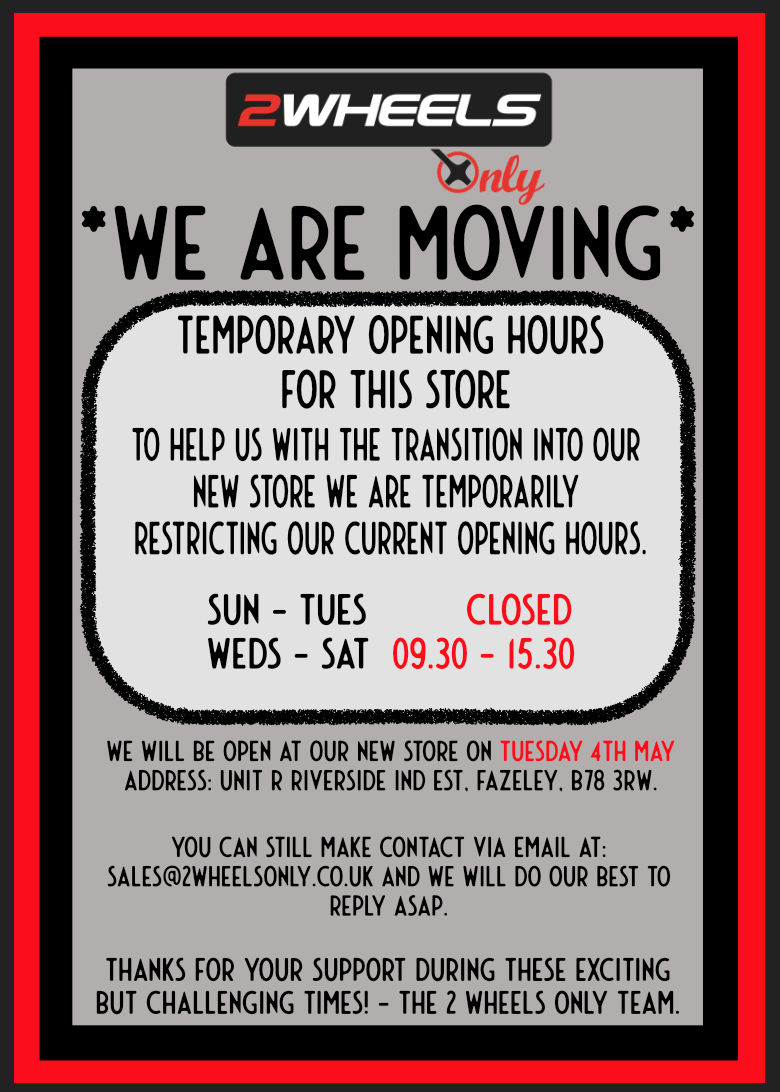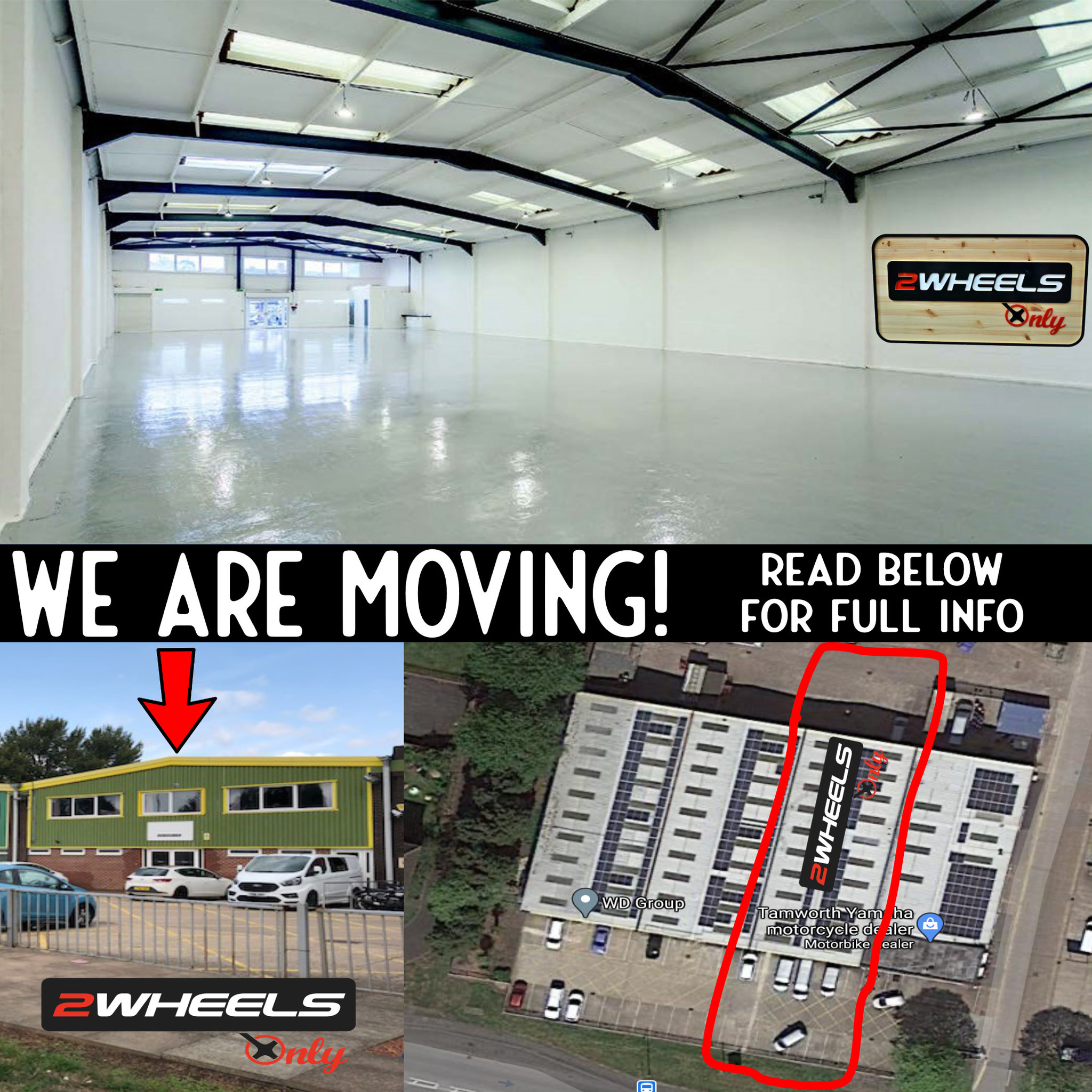 New Beginnings…

 

WE ARE MOVING HOME!

 

The time has come to share with you all our news, we have finally located the perfect premises and location to progress the shop to the next level!

 

 

Whilst we love where we are, it's obvious we outgrew the current shop a while back, and this move will also solve the existing parking and traffic issues, but what is most exciting is that we are planning on creating something out of the ordinary -  a completely different experience both in the retail store and workshop areas, along with a few other surprises. 

 

We are moving just slightly farther down the A5 (Watling street) towards Fazeley, and our new location will be on Riverside Business Park next door to Tamworth Yamaha.

 

This is going to be a mammoth build over the next couple of months prior to moving, and we plan to take you every step of the way with us by introducing a new VLOG Series following the shop build for you all to enjoy and see the progress. We'd also love it if anyone has any thoughts, comments and suggestions.

 

We plan to publish this weekly along the way, so please do subscribe to our YouTube Channel using the link in the video below if you would like to come on this journey with us :-)

 

We would like to say a special thanks to all of our awesome customers and friends that have put us in the position to be able to progress into making probably one of the coolest new bike shops in the country! Without your support we couldn't do this.

 

Here's to the journey!
Covid-19 Service Update & Free Delivery!
FREE DELIVERY AND CLICK & COLLECT 
In light of the current situation and being moved into a national lockdown, we have decided to implement new methods to help support customers. 
As we are on the list of essential businesses we are going to be open to the public with strict COVID-19 measures in place in store. now with the added asset that all orders placed online or over the telephone over £50 are now eligible for FREE delivery within a 10 mile radius. This is a personal service offered by us not a third party. And we hope that it is a useful addition to business in these difficult times to help you guys out. And most importantly helping you stay at home and keep safe!
Click and collect from the store is also available and encouraged to keep time spent in store at a minimum for the welfare of both staff and customers. 
Other delivery options are part of our future plans but for now we are trying to keep things local in line with government guidance.
Stay safe and hopefully we will see some light at the end of the tunnel soon!
The 2 Wheels Only Team.
You must follow the steps below if visiting the store, and follow government guidance in place at all times.
Face coverings must be worn at all times
Please use the hand sanitiser provided throughout the store and workshop
Please maintain social distancing and the 2m rule at all times
If when you arrive at the store there are more than 3 customers in the shop, then please wait outside until 1 person leaves.
We appreciate the understanding of our customers with this and all of these things help us to keep the door open providing our services to you.
Be sure to take advantage of our new delivery services as more time at home now will ultimately mean more freedom in the future!
Stay safe!